Energize Your Mind: Decoding the Intricacies of the Mind
Rating: 4.5/5
Bestselling author and renowned life coach, Gaur Gopal Das, offers an insightful dive into the complexities of the human mind in his latest offering, "Energize Your Mind: Learn the Art of Mastering Your Thoughts, Feelings and Emotions". Das, who left a promising career with Hewlett-Packard to seek enlightenment in an ashram, leverages his rich experience of blending ancient philosophy with modern psychology to offer practical strategies for disciplining the mind.
A Uniquely Interactive Approach
Das's unique, interactive approach sets this book apart. The inclusion of exercises, meditation techniques, and worksheets provide readers a hands-on experience, making the journey of self-discovery engaging and empowering.
A Life Coach in a Book
This book serves as a personal life coach, enabling readers to understand and navigate life's ups and downs with resilience. Das's anecdotes and wisdom, accumulated over two decades of life coaching, make this book a treasure trove of practical advice.
A Few Caveats
Despite its many strengths, the book occasionally meanders into lengthy narrations that some may find tedious. While it is a rewarding read, those who are not ardent fans of self-help literature may find it a little time-consuming. An audio version can offer an alternative, more digestible way of absorbing the book's content.
Final Thoughts
"Energize Your Mind" is a commendable attempt by Gaur Gopal Das to illuminate the workings of our minds. Despite some minor drawbacks, it remains an enriching read for anyone looking to gain control over their thoughts, feelings, and emotions. It's a fascinating guide to self-mastery, offering readers tools to achieve a more peaceful and productive life.
---
Energize Your Mind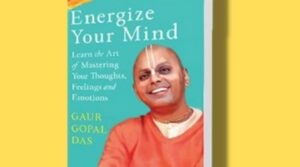 "Energize Your Mind" by Gaur Gopal Das is an enriching guide to mastering thoughts, feelings, and emotions. With interactive exercises, meditation techniques, and practical advice, it's a personal life coach encapsulated in a book.
URL: https://amzn.to/3NKyMfL
Author: Gaur Gopal Das