SOFTSPUN 900 GSM, Microfiber Double Layered Cloth 40×40
The SOFTSPUN 900 GSM, Microfiber Double Layered Cloth Towel Set is a top-tier cleaning solution that truly sets itself apart from other products in the market, primarily due to its high GSM (grams per square meter), dual-sided functionality, and long-lasting durability.
The GSM is a crucial factor to consider when purchasing microfiber cloths. It essentially refers to the density of the fabric, signifying its thickness and absorbency. A higher GSM, such as 900 in this case, means the cloth is thicker, denser, and more absorbent. A thicker cloth is capable of picking up and holding more dust, dirt, and liquids, which becomes essential when it comes to cleaning jobs where superior absorption is required. On the other hand, lower GSM cloths, though lighter and often easier to handle, may not provide the same level of absorbency and can be less effective for certain tasks.
This SOFTSPUN towel set, with its 900 GSM, is truly a game-changer. It is specially designed to handle the toughest of grease, dirt, dust, and spills while remaining gentle on all surfaces. The high GSM allows for high absorbency, meaning it can soak up liquids quickly and efficiently. This makes it an ideal choice for cleaning the interior of cars where spills and dust can often be problematic.
One innovative feature of this set is its dual-sided design, with each side colored differently for practicality. This differentiation allows you to use one side for certain tasks and the other for different ones, preventing cross-contamination and making the cleaning process much more efficient. The bright yellow side is great for highlighting any missed dirt or debris, showing you when to flip to avoid scratching any sensitive surface. The grey side can be used for drying and is excellent for use on sensitive surfaces like TV screens, computers, countertops, and more.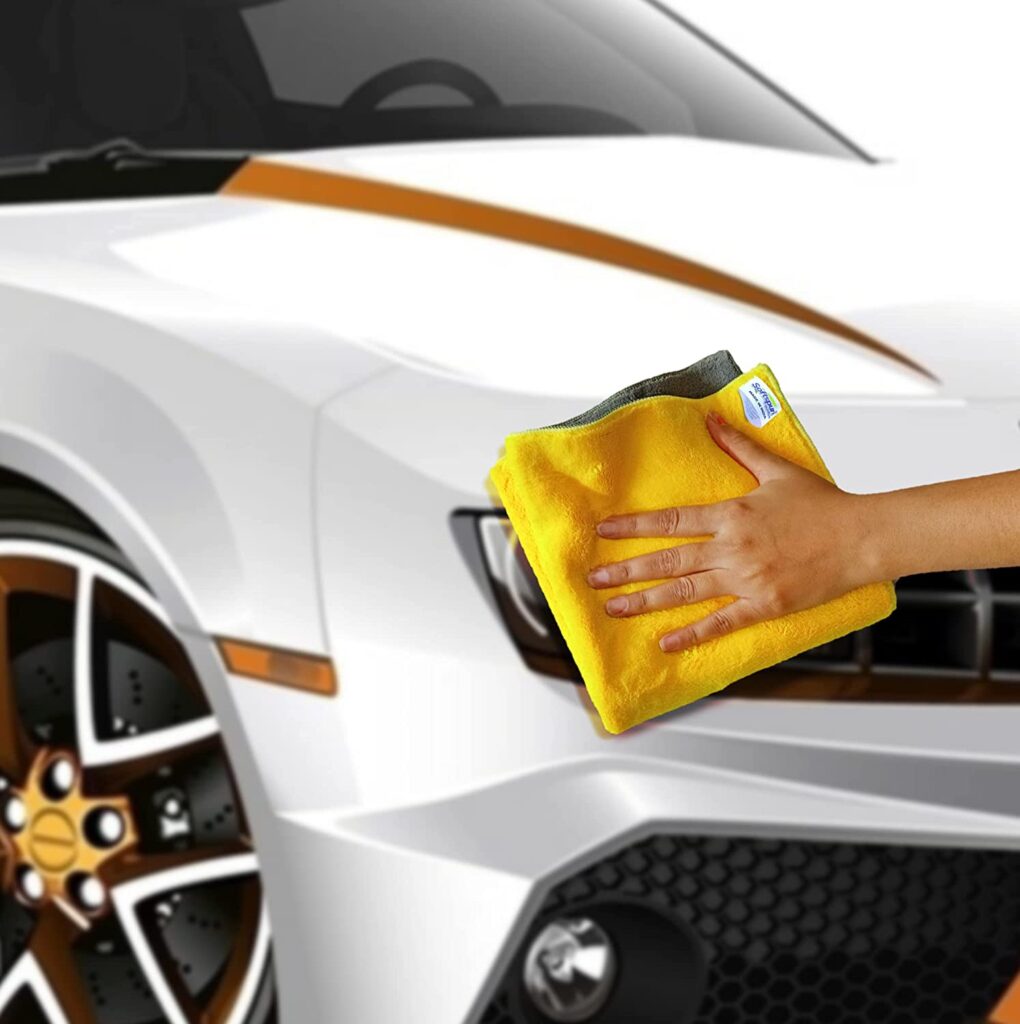 A crucial aspect to remember is that like all microfiber cloths, the SOFTSPUN cloths may initially release some lint. However, this is not a cause for concern. After a few washes, the cloth becomes quite lint-free. It's worth noting that these cloths can withstand up to 100 washes, reinforcing their high durability and making them a long-term cleaning solution.
Moreover, it's beneficial to have a variety of cloths with different GSM ratings. For exterior cleaning jobs where it's necessary to shake off the dust easily, lower GSM cloths may be more effective. However, for regular interior cleaning, where where soft touch is required, a higher GSM cloth like this SOFTSPUN one becomes an absolute necessity.
To sum up, the SOFTSPUN 900 GSM, Microfiber Double Layered Cloth Towel Set is not only a great cleaning tool but also an investment for the long term. Its high GSM rating, dual-sided design, durability, and the fact that it becomes lint-free after a few washes make it an excellent choice for those who want an efficient, reliable, and practical solution to their cleaning needs.
SOFTSPUN 900 GSM, Microfiber Cloth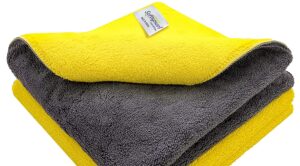 The SOFTSPUN 900 GSM Microfiber Double Layered Cloth Towel Set offers superior cleaning due to its high GSM, ensuring exceptional absorbency. Its dual-sided design prevents cross-contamination, while its ability to withstand up to 100 washes underscores its durability. Though it may release lint initially, this diminishes after a few washes, offering a long-term, efficient cleaning solution.
Product Brand: SOFTSPUN
Product Currency: INR
Product Price: 300-390
Product In-Stock: InStock