The HUL Pureit Copper+ Mineral RO + UV + MF Water Purifier, 8Ltr Water Purifier
The HUL Pureit Copper+ Mineral RO + UV + MF Water Purifier is an innovative and well-designed product that stands out for its unique features. It offers a 7-stage advanced purification system which ensures 100% RO purified water. This, along with UV and MF technology, guarantees safe and clean drinking water.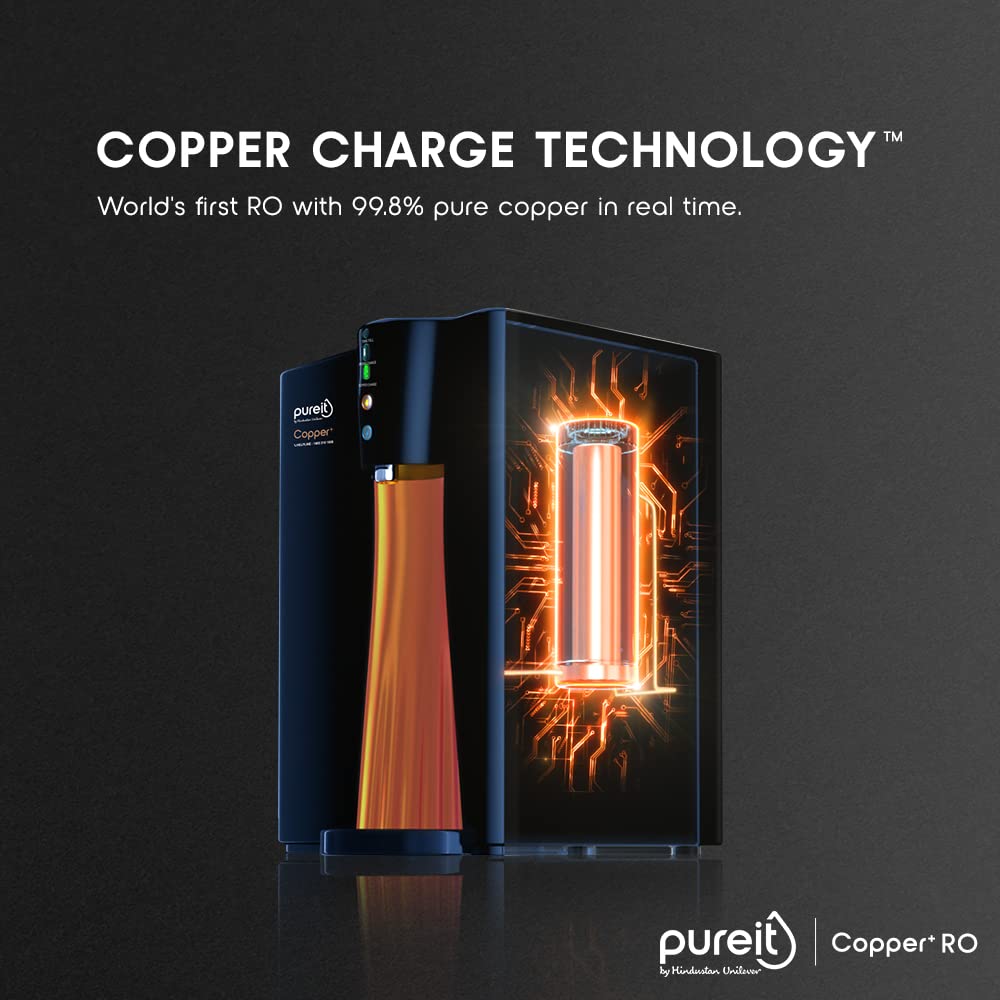 What makes this water purifier particularly remarkable is the Copper Charge Technology that infuses RO water with 99.8% pure copper, a mineral known for its health benefits. The purifier also allows you to choose between regular RO water and copper-charged RO water thanks to its dual water dispensing feature.
The device is smart enough to automatically clean the copper, which ensures fresh copper infusion at all times. This Intelligent Copper Auto-Cleaning feature distinguishes the HUL Pureit Copper+ from many other water purifiers on the market.
With a generous capacity of 8 litres, this water purifier is well-suited for larger households or office spaces. The unit is aesthetically pleasing with a black and copper color scheme, and the tank is made from food-grade engineered plastic, ensuring water safety.
While the product is impressive, it's essential to note that it discharges 650 ml of water for every litre purified. The brand encourages users to collect this water for other purposes, such as cleaning utensils or washing clothes, to prevent wastage.
Also noteworthy is the free installation provided by the brand in metropolitan cities within 24 hours and in other locations within 48 hours. The warranty on this product is for one year, but it's important to know that it doesn't cover consumables and additional accessories.
However, while copper-infused water can be beneficial due to its anti-microbial and anti-inflammatory properties, it's crucial to be mindful of its long-term intake. Too much copper can potentially lead to health problems, so it's important to monitor your consumption if you use a copper-releasing water purifier regularly. As with any health-related product, it's always advisable to consult a healthcare provider or a nutritionist before making any significant changes to your diet or lifestyle. But as I previously mentioned that this purifier gives you the option of choosing copper infused or normal water, so it makes a bonus actually.
In conclusion, the HUL Pureit Copper+ Mineral RO + UV + MF Water Purifier seems like a robust, technologically advanced water purifier that has the added benefit of copper-infusion. However, it's important to use this feature with caution for long-term health benefits.