Philips Hair Straightener BHS520/00 with ThermoShield Technology and Argan Oil Infused Plates
Philips Hair Straightener BHS520/00
SUMMERY: The Philips Hair Straightener BHS520/00 provides efficient styling with ThermoShield technology and Argan oil-infused plates, ensuring hair health and impressive results. Use styling tools moderately for hair longevity.
Product Brand: PHILIPS
Product Currency: INR
Product Price: 5100-5400
Product In-Stock: InStock
REVIEW
Presenting here the review of Philips Hair Straightener BHS520/00 with ThermoShield Technology and Argan Oil Infused Plates
Design and Aesthetics – 4.5/5
The Philips Hair Straightener BHS520/00 boasts a sleek and stylish design that combines grey and black in a visually appealing way. It is compact and portable, making it an ideal tool for on-the-go touch-ups and travel. The design complements the high-quality functionality of the product, making it a chic and valuable addition to your hairstyling tools.
Argan Oil Infused Ceramic Plates – 4.8/5
The ceramic plates of this straightener are infused with argan oil, which is renowned for its nourishing properties. Argan oil works to protect your hair during the straightening process, preventing unnecessary damage and promoting healthy, shiny hair. The plates also utilize floating technology for smooth gliding, ensuring each stroke is gentle on your hair and helps achieve salon-like results.
ThermoShield Technology – 4.5/5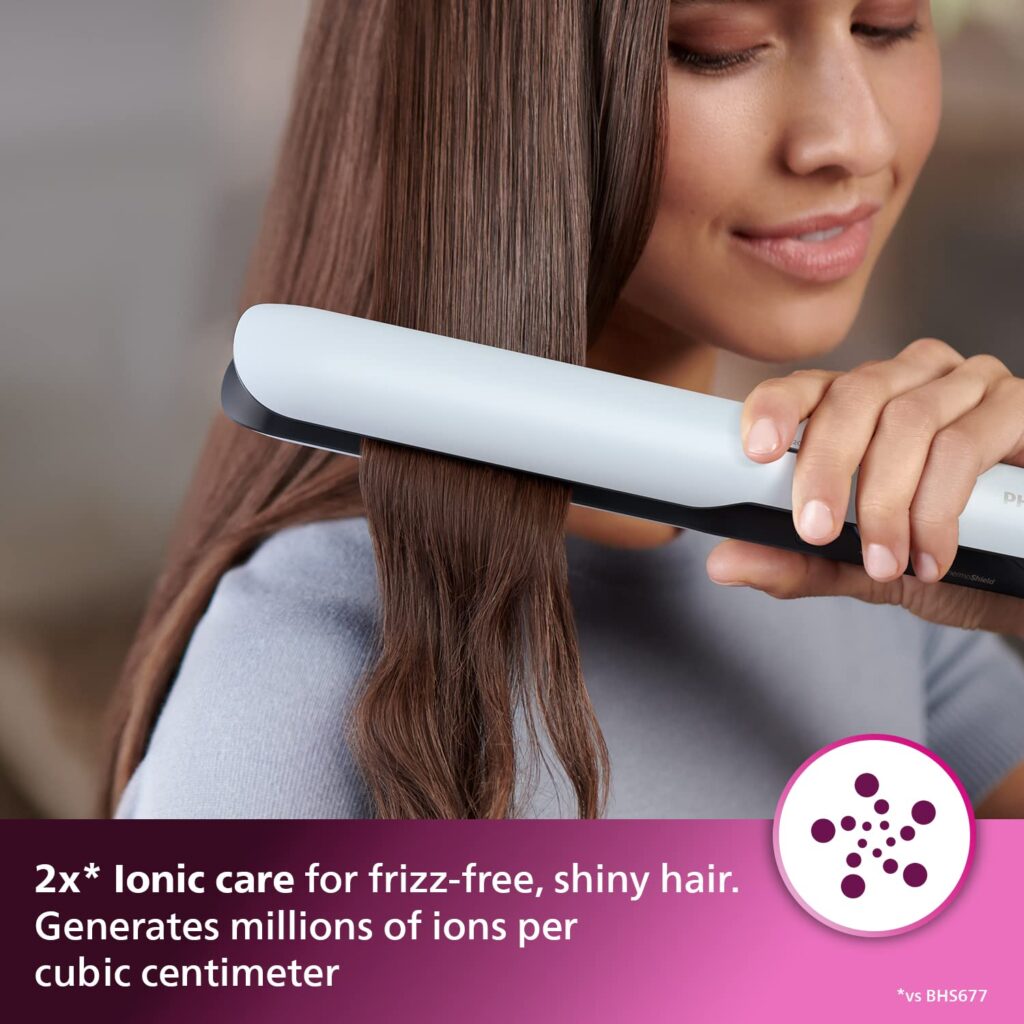 One of the unique features of the Philips BHS520/00 is its ThermoShield technology. This innovation maintains a consistent temperature from roots to ends during straightening, ensuring even styling and reducing the potential for heat damage. This technology also enables 50% faster straightening compared to conventional straighteners, a feature that will appeal to those who value both hair health and time efficiency.
Ionic Care for Frizz-Free, Shiny Hair – 5/5
The straightener comes with 2X Ionic care, which significantly helps to reduce frizz and flyaways. This feature enhances the overall shine of your hair, leaving you with smooth, salon-like hair after every use. The Ionic care also ensures your hair retains its natural moisture, helping to preserve the health of your hair in the long run.
Variable Temperature Settings – 4.5/5
This straightener is equipped with 12 temperature settings, ranging from 120C to 230C. This broad spectrum allows you to choose a temperature that best suits your hair type, offering optimal heat levels for thin, medium, or thick hair. The easy-to-use temperature dial also allows for quick adjustments during use.
Customer Experiences – 4.5/5
Users of the Philips Hair Straightener BHS520/00 have reported highly positive experiences. One user praised the straightener's argan oil infused plates for keeping her hair safe from damage, and also noted that the styling effect lasts a long time. She found the straightener particularly useful for a special family function, where her straightened hair added to her fabulous look.
Another user highlighted the straightener's ThermoShield technology, appreciating how it lowers heat damage. She found that it took less time to straighten her hair compared to other straighteners she had used before. The smooth glide of the ceramic plates and the 2X Ionic care feature left her frizzy hair vibrant and shiny. The user also appreciated the value for money the product provided, reducing the need for frequent salon visits to get her hair straightened.
Conclusion
The Philips Hair Straightener BHS520/00 is a high-performing, efficient tool designed for those seeking salon-quality hair straightening at home. Its ThermoShield technology, argan oil infused plates, and ionic care feature collectively contribute to providing a styling experience that prioritizes hair health. The added benefits of faster straightening and lasting effects make it a worthy investment.
Given its user-friendly design, protective features, and positive customer feedback, this Philips Hair Straightener is highly recommended for those seeking a versatile, reliable, and hair-friendly straightening tool.
ReviewNectar's Expert Tip for Maintaining Hair Health
While hair styling tools such as the Philips Hair Straightener BHS520/00 are designed to minimize damage, it's essential to remember the value of moderation. Overuse of any heat-based styling product can potentially impact the natural strength and shine of your hair. Therefore, we recommend using these tools sparingly, interspersed with periods where you allow your hair to rest and recover naturally.
Balancing the use of your straightener with proper hair care routines, like regular conditioning and the use of heat protection sprays, can significantly maintain your hair's health. In addition, investing in a nourishing hair mask or treatment can replenish your hair's natural oils, ensuring that your locks remain strong and vibrant even after regular styling.
A healthy hair routine, combined with the smart use of styling tools like the Philips Hair Straightener BHS520/00, will keep your hair looking beautiful and feeling healthy, maximizing the benefits of your styling tools while minimizing potential harm.
Overall Rating: 4.5/5