A Comprehensive Review of Philips Viva Collection HD4938/01 2100-Watt Glass Induction Cooktop
---
REVIEW
Introduction
The Philips Viva Collection HD4938/01 2100-Watt Glass Induction Cooktop is a premium kitchen appliance, offering a blend of functionality, style, and sophistication. It boasts innovative features such as sensor touch keys, a high-quality full glass panel, and multiple preset menus, ensuring a seamless and comfortable cooking experience. This article provides an in-depth review of the product, discussing its advantages, potential drawbacks, and user experiences.
Features and Functionality
The Philips Viva Collection HD4938/01 induction cooktop is packed with impressive features that make it stand out in the crowded market of kitchen appliances. It offers ten preset menus for different Indian recipes, enabling users to prepare a diverse range of dishes with ease. The sensor touch keys provide an effortless user interface, and the high-quality full glass panel adds a touch of elegance to the cooktop's design.
Moreover, the induction cooktop is equipped with a 0 to 3 hours time setting and a 24-hour preset timer function for delayed cooking, offering maximum flexibility and convenience to users. The auto-off program ensures safe cooking, automatically shutting off the device when it is not in use.
With a power output of 2100 watts, this induction cooktop guarantees efficient and quick cooking, saving time and energy. The cooktop also features a flameless cooking method, which is safer and keeps the surface cool to touch.
User Experience
Several users have appreciated the product for its stylish design, durable build, and easy operation. The full glass top design has been particularly praised, which addresses the common issue of water seepage in many other models. The preset options, child lock feature, and the manual mode also received positive feedback, providing users with full control over their cooking process.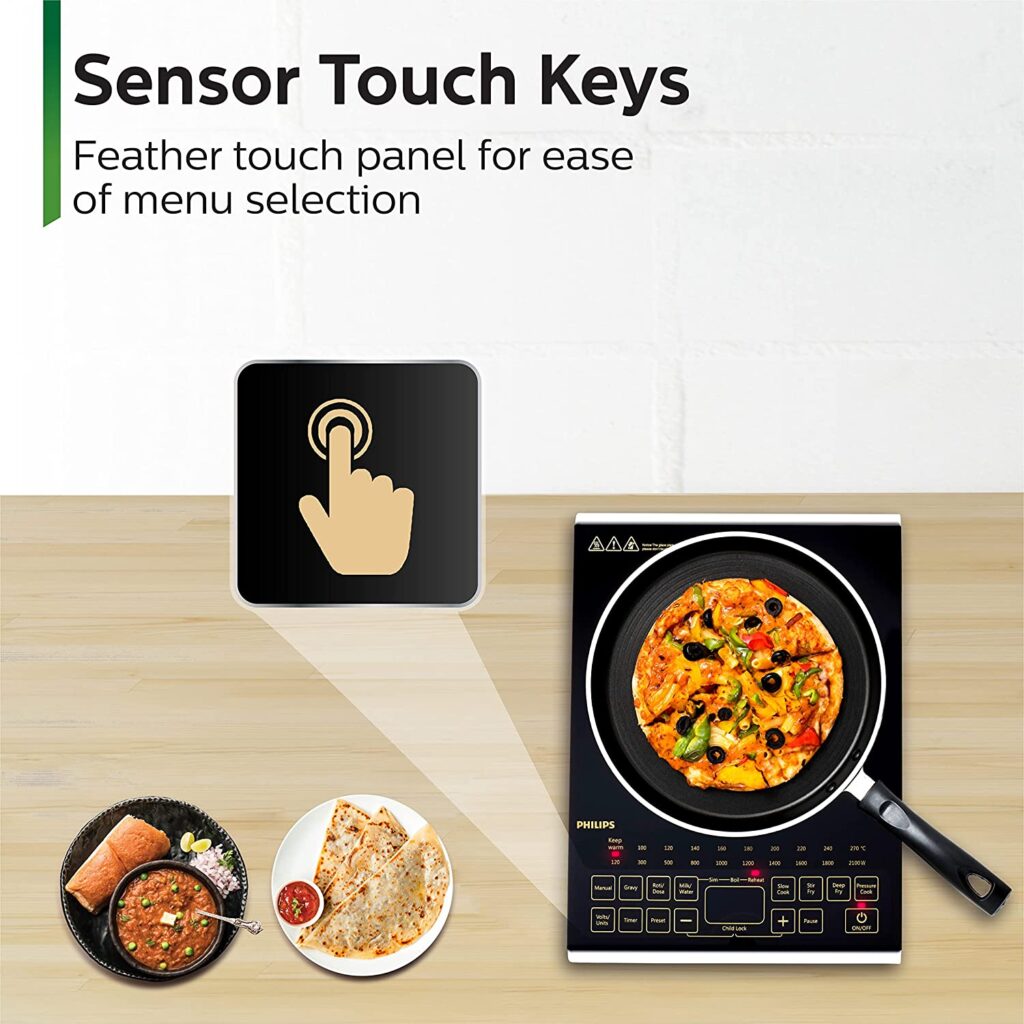 Pros of Philips Viva Collection HD4938/01
Stylish and durable full glass top design.
Numerous preset options for diverse cooking needs.
Easy to operate with sensor touch keys.
Safety features like the auto-off program and child lock.
Efficient cooking with 2100 watts of power.
Flexible cooking options with adjustable temperature and timer settings.
Cons of Philips Viva Collection HD4938/01
The cooktop may slip on certain surfaces due to the lack of rubber shoes on the legs.
The red LED indicators above the buttons could be aesthetically improved.
Some users have reported that the induction cooktop is not as quiet during operation as they expected.
The price is on the higher side for the feature upgrades from previous models.
Tips for Using the Product
To ensure longevity and safe use of the induction cooktop, it's crucial to only use induction base cookware. Users must also be mindful of the residual heat on the glass plate during and after use. Keeping the vents clean and ensuring proper forced air circulation around the induction is crucial for maintaining the device's longevity.
Conclusion
The Philips Viva Collection HD4938/01 2100-Watt Glass Induction Cooktop is a reliable and high-performing kitchen appliance. Despite some minor design and noise-related issues, it has lived up to the expectations of users, offering a balance of style, convenience, and functionality. With a rating of 4.3, it's a worthy investment for those seeking to upgrade their kitchen with a modern, efficient, and aesthetically pleasing appliance.
---