Dyazo Memory-Foam Gel Mouse Pad
The Dyazo Memory-Foam Gel Mouse Pad, an essential gadget for work-from-home, gaming, and professional use, offers an unparalleled blend of comfort and functionality. It's thoughtfully designed to alleviate wrist discomfort, boost productivity, and ensure optimal mouse tracking. This review provides a detailed analysis of its features, practical benefits, and overall performance based on my personal use.
At first glance, the Dyazo mouse pad impresses with its sleek, ergonomic design. The dimensions – 21 x 0.2 x 26 cm, make it spacious enough for smooth mouse movements, yet compact enough to fit neatly on a crowded desk. It sports a calming blue shade, adding a pleasant aesthetic touch to my workspace.
One of the standout features is its construction. The Dyazo mouse pad is made from a unique combination of memory foam and gel pad. This composition provides a soft and supportive surface for the wrist, helping to maintain proper positioning and minimizing pressure on the wrist. This is an essential feature for anyone who spends a significant amount of time on their computer, as it can help to prevent discomfort and even potential injuries over time.
The mouse pad's surface, made of smooth, breathable Lycra fabric, has significantly enhanced the accuracy of mouse tracking. The fabric's smoothness ensures a frictionless glide for the mouse, leading to more precise cursor movements. It's compatible with all types of mouse technologies – from the latest laser to traditional optical mice, increasing its universal appeal.
Additionally, the Dyazo mouse pad comes with an anti-skid rubber base that firmly grips the table, preventing any undesirable sliding during intense work or gaming sessions. It's not just a mouse pad; it's a tool that can significantly improve your work or gaming experience.
Moreover, the mouse pad is water-resistant and washable, which adds to its durability and longevity. Accidental spills are no longer a concern as the pad can be easily cleaned, ensuring it stays fresh and functional for a long time.
Lastly, the Dyazo mouse pad is designed for everyone, from tech professionals to work-from-home individuals and gamers. Its features and design cater to the needs of various user profiles, making it a versatile addition to any workstation.
To sum up, the Dyazo Memory-Foam Gel Mouse Pad delivers on its promise of comfort and functionality. Its ergonomic design, high-quality materials, and thoughtful features make it an excellent investment for anyone seeking to optimize their computer usage experience and prevent wrist strain.
Dyazo Memory-Foam Gel Mouse Pad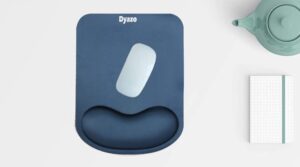 "Comfort meets functionality in the Dyazo Memory-Foam Gel Mouse Pad. Its ergonomic design, equipped with memory foam, gel pad and anti-skid base, ensures wrist support and accurate mouse tracking. Ideal for anyone who spends significant time on a computer, this mouse pad is a valuable addition to any workspace."
Product Currency: INR
Product Price: 399
Product In-Stock: InStock