Secured with Hardware Encryption, Samsung T7 Touch 1TB Portable SSD is a Great Choice
The Samsung T7 Touch Portable SSD is the epitome of external storage, offering a blend of speed, security, and convenience in a compact form factor. With a digital storage capacity of 1TB, it provides ample space for your games, movies, or sensitive work files.
The exceptional speed of the SSD is facilitated by the USB 3.2 Gen 2 interface that supports transfer rates of up to 10Gbps. The cutting-edge PCIe NVMe technology embedded in the device enables sequential read/write speeds of up to 1,050/1,000 MB/s. These speeds make the T7 Touch nearly twice as fast as its predecessor, the T5, drastically reducing the time you spend waiting for files to transfer.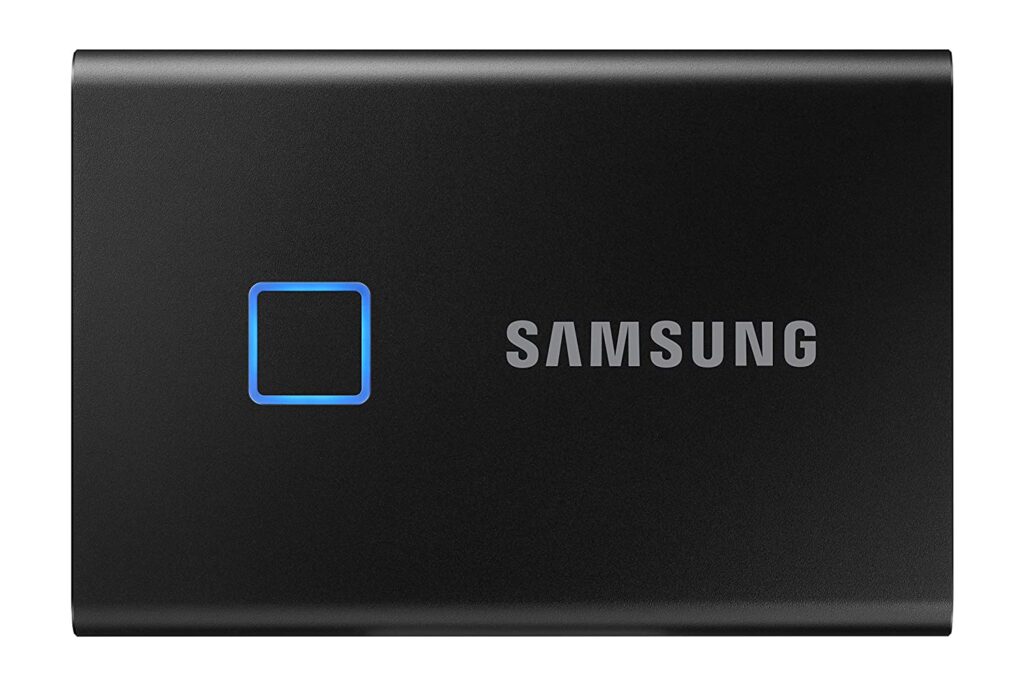 The T7 Touch not only impresses with its speed but also its robust construction. It boasts a solid state design, with no moving parts inside, and a sturdy metal body that provides protection against falls of up to 2 meters. This makes the SSD a durable companion for those on the move.
In terms of security, Samsung has integrated a fingerprint reader into the T7 Touch for biometric authentication, adding an extra layer of protection to your data. In addition, it offers optional password protection and AES 256-bit hardware encryption, ensuring your files remain secure from unauthorized access.
The T7 Touch's compatibility is another of its strong points. Whether you are using a PC, Mac, Android device, or a gaming console, you can readily access your files. To enhance its versatility, Samsung includes USB Type C-to-C and Type C-to-A cables in the box.
Samsung also provides comprehensive management software for PCs and Macs, as well as a mobile app for Android devices. These tools allow you to set up passwords, register fingerprints, and update the SSD's firmware, ensuring the device is always secure and up-to-date.
In summary, the Samsung T7 Touch is an outstanding portable SSD, blending top-tier performance, robust security features, and broad compatibility in a compact, durable design. This device is ideal for anyone seeking a reliable and fast external storage solution.