Olympus Binoculars 10×50 S V501023BU000 Review
Olympus Binoculars 10x50 S V501023BU000 Review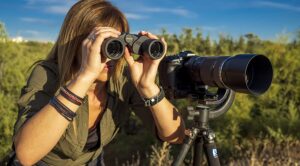 The Olympus Standard binoculars offer high-performance optics, durable design, and ergonomic controls, making them an excellent choice for birdwatchers and nature enthusiasts.
Product Brand: Olympus
Product Currency: INR
Product Price: 9500-12000
Product In-Stock: InStock
REVIEW
We are going to discuss about Olympus Binoculars 10×50 S V501023BU000 in this Review.
The Olympus Standard binoculars are a compelling choice for nature and birdwatching enthusiasts who value a seamless blend of quality, performance, and comfort. This finely-crafted optic tool excels in numerous facets, from its robust design to its impressive lens performance even in low-light conditions, rendering it an indispensable companion for your outdoor adventures.
Design and Build of Olympus 10×50 S Binoculars V501023BU000
Designed with durability in mind, the binoculars are slightly larger and heavier than some counterparts. Yet, Olympus has cleverly balanced this by thoughtfully distributing the weight to allow easy handling and prevent fatigue during prolonged use. Its sturdy exterior coupled with a rubber-coated grip ensures that the binoculars can endure the rigors of outdoor usage.
Lens Performance and Vision
What distinguishes these binoculars is their superior vision and magnification, delivering sharp, high-resolution images even under dim lighting conditions. The larger objective lens, coupled with advanced optical technologies, minimize image distortion and chromatic aberration. This means that whether you are bird-watching in a dense forest or observing wildlife at dusk, the Olympus binoculars will provide clear, crisp images, rivalling more expensive models.
Focus and Functionality
The responsive focus wheel allows users to swiftly and accurately adjust the binoculars to their desired focus, a crucial feature when tracking fast-moving subjects. This focus system, combined with the binocular's ergonomic design and accessible controls, lends itself to a comfortable, fatigue-free experience, even with extended usage.
Olympus Binoculars 10×50 S Additional Features
The detachable lens hoods add an extra layer of protection but require careful handling to avoid loss. However, their removability provides a degree of customization to the user, allowing you to adjust your viewing experience to your specific needs.
Conclusion
In conclusion, the Olympus Standard binoculars are a top-notch choice for those who desire an immersive nature observation experience. Despite being slightly heavier, the weight is well-balanced, and the superb magnification and clarity under challenging lighting conditions are exceptional. Backed by Olympus's reputation for quality optics, you can anticipate durability and high performance from these binoculars.
These binoculars would likely fall in the price range of 9500 – 12000 INR, providing an affordable yet high-quality option for birdwatching and nature enthusiasts.
PRO TIP from ReviewNectar: Can it be used for astronomical observations?
Yes, the Olympus Standard binoculars can certainly be used for very basic astronomical observations. Their wide field of view and good light-gathering capacity due to the large objective lens diameter make them suitable for stargazing. You can use them to observe the Moon, stars, constellations, and the brightest planets. However, note that their magnification might not be sufficient to see fine details of planets or distant galaxies. For detailed astronomical observations, specialized astronomy binoculars or telescopes would be more appropriate. Remember, it's always recommended to use a tripod for a stable view, especially for astronomical observations.
Rating: 4.5 out of 5