Nikon ACULON A211 10×50 Binoculars Review
Overall rating: 4.5/5
This is a Comprehensive Review of Nikon ACULON A211 10×50 Binoculars discussing what makes them one of the best binoculars in this price range.
The Nikon ACULON A211 10×50 binoculars deliver exceptional performance at a very competitive price range of 13,000 – 15,000 INR. With the excellent combination of design, functionality, and cost, these binoculars provide a considerable advantage to amateur astronomers, bird-watchers, and outdoor enthusiasts alike.
Starting with the large objective lens, these binoculars offer a bright and wide field of view that greatly enhances the viewing experience. This feature is ideal for broad-spectrum observations, such as wildlife spotting or celestial navigation.
The multilayer-coated lenses deliver impressively bright and sharp view. This feature enhances the clarity and contrast of the view, providing sharp view even in low light conditions. The binoculars also feature an 11.8mm eye relief, which is convenient for people who wear glasses.
One of the most striking features of the ACULON A211 is its aspherical eyepiece lenses. These lenses provide undistorted images across the entire surface of the lens, which is an incredible asset when observing fine details in nature or astronomical objects.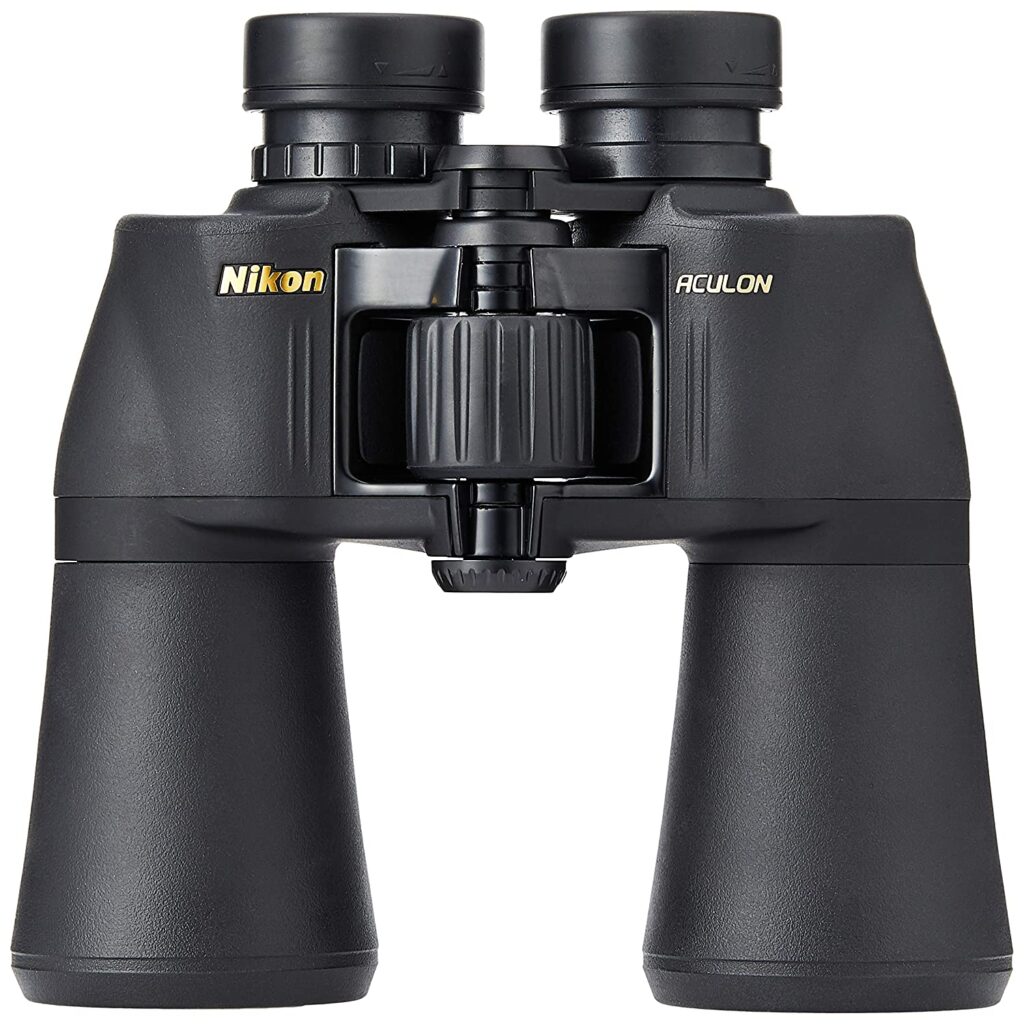 The turn-and-slide rubber eyecups facilitate comfortable positioning of the eyes, which is particularly beneficial during extended periods of use. Coupled with a durable rubber-armored coating, the binoculars offer shock resistance and a firm, comfortable grip. This is a noteworthy feature for outdoor enthusiasts who require sturdy and reliable gear.
The Nikon ACULON A211 10×50 binoculars are also tripod adaptable, providing the option for stabilized viewing. This feature is especially useful for observations that require precision and stability, such as bird-watching or astronomical viewing.
With Nikon ACULON A211 10×50 binoculars, you might be able to see Saturn as a distinct oval shape, indicating the presence of rings. However, due to the binoculars' maximum magnification of 10x to 22x, it would be challenging to clearly see the rings as distinct structures separate from the planet itself.
Lastly, the ACULON A211 comes with Nikon's No-Fault Repair/Replacement Policy, which ensures that the product is covered for repairs not covered by the limited lifetime warranty. This is a welcome addition and speaks volumes about Nikon's dedication to quality and customer satisfaction.
As for the hands-on experience, the ACULON A211 10×50 binoculars surpass expectations. The optics are excellent, with virtually no color fringing, even on a bright sunny day. The nighttime performance is impeccable, providing clear and sharp views of celestial bodies. From spotting craters on the moon to identifying constellations in the heavily light-polluted skies of urban areas, these binoculars deliver a surprising level of detail.
However, to maximize the potential of these binoculars, the purchase of a tripod is recommended. The binoculars' high clarity can be truly appreciated with the stability of a tripod. Thankfully, the adapter for the tripod is supplied with the binocular.
In conclusion, the Nikon ACULON A211 10×50 binoculars offer an optimal combination of price, performance, and convenience. Whether you're a budding astronomer, an avid bird-watcher, or simply a nature enthusiast, the ACULON A211 10×50 offers an affordable and effective solution for your observation needs.
PRO TIP:
You must be thinking about what can you see in the night sky with these binoculars. Here is a pro tip from NectarReviews: For clearly observing the rings of Saturn, a telescope with higher magnification, typically around 25x to 50x, is usually recommended. Also, the quality of your observation can be influenced by several factors, including the current position of Saturn, the clarity of the sky, and the level of light pollution in your location. Remember, a stable viewing platform, like a tripod, is also beneficial for observing distant celestial bodies.
Nikon ACULON A211 10x50 Binoculars Review
The Nikon ACULON A211 10x50 binoculars deliver sharp images and durable design at an affordable price, perfect for amateur astronomers and nature enthusiasts alike.
Product In-Stock: InStock