Review of the Syvo WT 3130 Aluminum Tripod
Syvo WT 3130 Aluminum Tripod
The Syvo WT 3130 Aluminum Tripod is a sturdy, lightweight, and universally compatible tripod that has been designed with a focus on convenience and versatility.
Product Brand: Syvo
Product In-Stock: InStock
REVIEW
Introduction
The Syvo WT 3130 Aluminum Tripod is a sturdy, lightweight, and universally compatible tripod that has been designed with a focus on convenience and versatility. Whether you're a professional photographer or an enthusiastic hobbyist, this tripod, with its unique features, offers excellent value.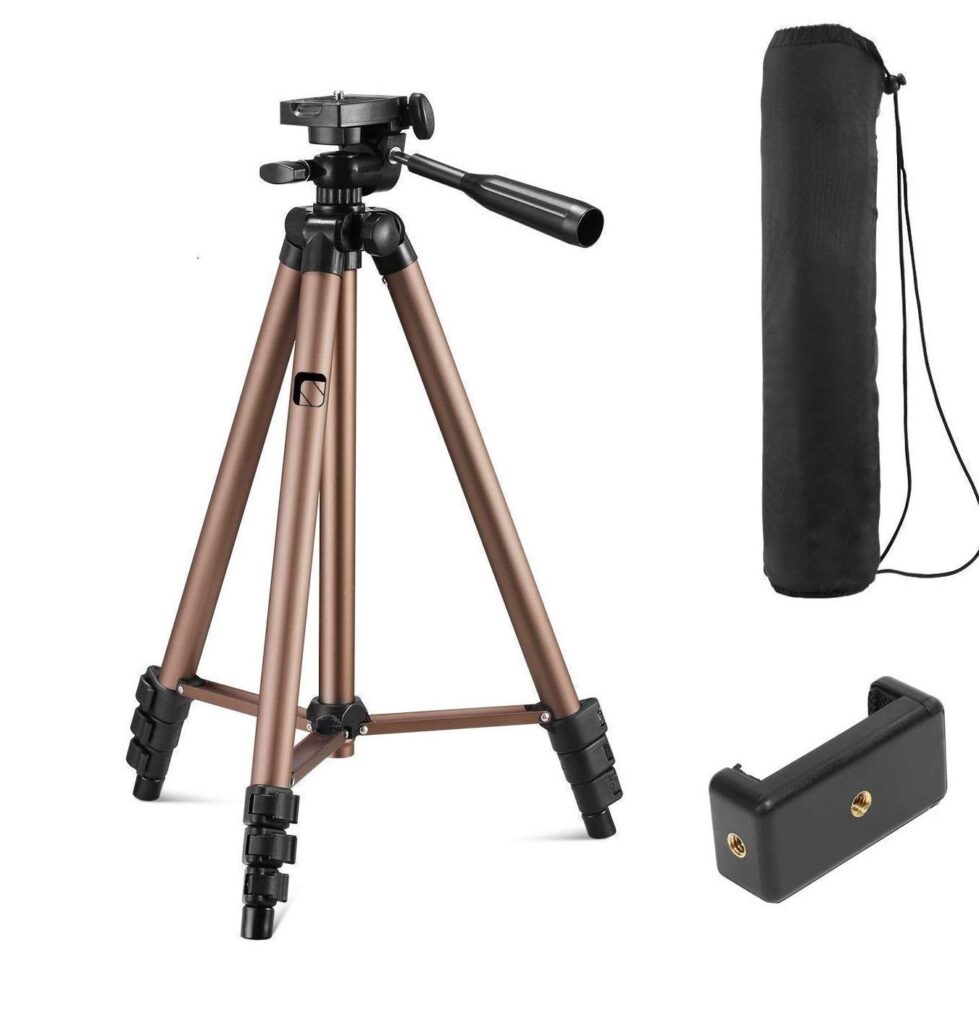 Lightweight and Compact
This tripod is impressively lightweight, weighing just over a pound, making it ideal for those on the move. Despite its feather-like weight, it offers a stable platform for a wide variety of devices. The tripod extends to multiple heights—22″, 30″, 40″, and 50″—with a minimum height of 16″. The center shaft jacking system allows for easy adjustments to the height, enabling smooth, stable movements for your device. When fully extended, the length can reach up to 105cm, offering considerable flexibility.
Universal Cellphone Holder and Wide Compatibility
The Syvo WT 3130 includes a universal cellphone holder with a padded grip to prevent damage to your phone. The adjustable adapter can accommodate any phone with a maximum stretch width of 3.4″. This feature, combined with compatibility with all video cameras, digital cameras, still cameras, projectors, GoPro devices, and scopes, makes this tripod a highly versatile tool.
Level Indicator and 3-Way Head
The built-in bubble view levels and 3-way head facilitate tilt and swivel motions. This feature allows you to switch between portrait and landscape orientations with ease. Whether you're aiming for the perfect landscape shot or a portrait, the Syvo WT 3130 has got you covered.
3-Section Lever-Lock Legs
The tripod features three-section lever-lock legs, enabling easy adjustments to suit any terrain or framing requirement. Each leg has three extendable sections, making it easier to attain reliable stability and achieve the perfect angle for your shots.
High-Quality Material and Quick Installation Plate
Constructed from high-quality aluminum alloy, the tripod boasts a robust and durable design. The quick installation plate features a 1/4″ international standard screw, making it easy to attach and detach your devices. It also features a pull buckle locking system for added security.
Non-Slip Features and Firm Connection
The tripod comes with non-slip rubber, bubble level, and a non-slip foot pad, all designed to enhance stability. It provides a strong connection that can support any device weighing up to 5kgs.
Portability and Storage
The collapsible design of this tripod allows the handle to rotate down and the legs to contract, creating a compact size that fits neatly into the provided zippered bag. This makes it easy to carry around and safe to store.
Conclusion
The Syvo WT 3130 Aluminum Tripod is a well-thought-out piece of equipment that offers remarkable versatility. It's not just a stand for your camera or phone; it's a tool that can elevate your photography and videography to new heights. Whether you're capturing long-exposure shots, self-portraits, HDR photography, or video work, this tripod has got you covered. Its wide compatibility, user-friendly features, and compact design make it an excellent choice for professionals and amateurs alike.